Spell + Graphcore
Try IPUs in the cloud with an instant, self-service trial leveraging Spell's end-to-end MLOps platform.
Free trial
IPUs meets Powerful MLOps
Start with a self-guided free trial to run IPU-optimized models within Spell's intuitive Jupyter Workspace environment. When you're ready to ramp up, Spell's powerful MLOps solution combined with Graphcore's AI infrastructure in the cloud or on-prem, allows enterprise customers to build, manage and deploy models at scale.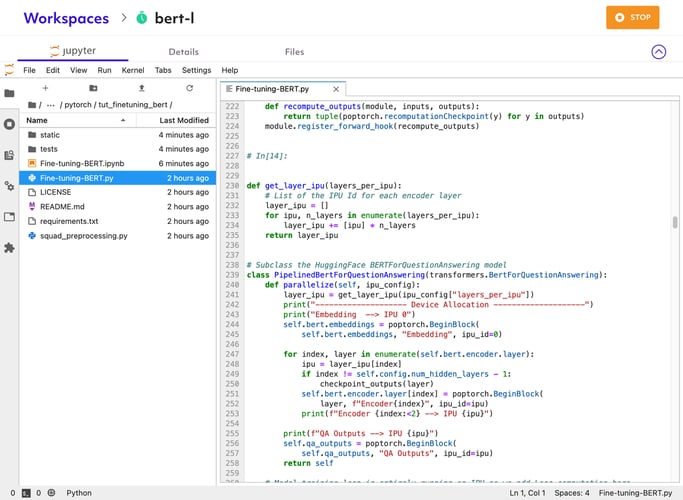 Run AI applications instantly in the cloud
Spell is an MLOps platform that operationalizes deep learning for NLP, computer vision and speech recognition at scale.
Built to meet the demands of AI workloads, Spell provides a cloud-based end-to-end platform for managing the entire model lifecycle all within a simple, powerful UX.
Graphcore and Spell are offering a self-guided 6-hour free trial enabling developers to instantly road-test IPU systems with a range of popular AI models on Jupyter notebooks. Paid enterprise-grade options are also available.
Developer Quickstart
Self-service Trial Features
Instant Remote Execution
Run models in your local IDE or Jupyter notebook, and execute runs on an automatically configured IPU-POD systems all within the command line.
IPU-optimized Model Hub
Test run a range of popular AI models, including NLP models such as BERT, computer vision models like ResNet and EfficientNet, plus GNNs such as TGN.
Self-service Tutorials
Access a selection of comprehensive IPU-powered Jupyter notebooks for quick start porting guides on popular machine learning frameworks.
Enterprise-Grade Features
Intelligent Cluster Management
Automate IPU resource allocation among multiple concurrent users, orchestrated through the Spell machine scheduler.
Monitor and Automate
Monitor usage and performance metrics from pilot to production and across teams through a central control pane. Customize user metrics with an extensible Python API.
Scale and Deploy
Unlock enterprise-grade MLOp features to manage the entire model lifecycle with full experiment management, model versioning and registry to scalable production deployment.